---
19 People in those places will sing songs of praise.
There will be the sound of laughter.
I will give them many children
so their number will not be small.
I will bring honor to them
so no one will look down on them.
20 Their descendants will be as they were in the old days.
I will set them up as a strong people before me,
and I will punish the nations who have hurt them.
21 One of their own people will lead them;
their ruler will come from among them.
He will come near to me when I invite him.
Who would dare to come to me uninvited?" says the Lord.
Read full chapter
New International Version
19 From them will come songs(A) of thanksgiving(B)
and the sound of rejoicing.(C)
I will add to their numbers,(D)
and they will not be decreased;
I will bring them honor,(E)
and they will not be disdained.
20 Their children(F) will be as in days of old,
and their community will be established(G) before me;
I will punish(H) all who oppress them.
21 Their leader(I) will be one of their own;
their ruler will arise from among them.(J)
I will bring him near(K) and he will come close to me—
for who is he who will devote himself
to be close to me?'
declares the Lord.
Read full chapter
New Century Version (NCV)
The Holy Bible, New Century Version®. Copyright © 2005 by Thomas Nelson, Inc.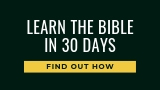 New International Version (NIV)
Holy Bible, New International Version®, NIV® Copyright ©1973, 1978, 1984, 2011 by Biblica, Inc.® Used by permission. All rights reserved worldwide.
NIV Reverse Interlinear Bible: English to Hebrew and English to Greek. Copyright © 2019 by Zondervan.