---
14 I will make you slaves to your enemies
in a land you have never known.
My anger is like a hot fire,
and it will burn against you."
15 Lord, you understand.
Remember me and take care of me.
Punish for me those who are hurting me.
Don't destroy me while you remain patient with them.
Think about the shame I suffer for you.
16 Your words came to me, and I listened carefully to them.
Your words made me very happy,
because I am called by your name,
Lord God All-Powerful.
Read full chapter
New Century Version (NCV)
The Holy Bible, New Century Version®. Copyright © 2005 by Thomas Nelson, Inc.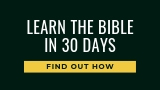 Bible Gateway Recommends
Biblia Gracia para el Momento NBD, Enc. Rústica (NBD Grace for the Moment Bible, Softcover)
Retail: $19.99
Our Price: $13.99
Save: $6.00 (30%)
NCV Revolve Bible, Leathersoft, raspberry
Retail: $44.99
Our Price: $19.99
Save: $25.00 (56%)
The Contemporary Parallel New Testament with KJV, NIV, NKJV, NASB, and more!
Retail: $49.95
Our Price: $33.99
Save: $15.96 (32%)
Dad's Bible: The Father's Plan - eBook
Our Price: $9.99
NCV Grace for the Moment Daily Bible
Retail: $19.99
Our Price: $13.99
Save: $6.00 (30%)
Biblia Económica NBD, Enc. Rústica (NBD Economy Bible, Softcover)
Retail: $6.99
Our Price: $3.99
Save: $3.00 (43%)