---
4 1 He reckoneth up the mischiefs that proceed of the works of the flesh. 7 He exhorteth to humility,  8 and to purge the heart 3 from pride, 10 backbiting, 14 and the forgetfulness of our own infirmity.
1 From [a]whence are wars and contentions among you? are they not hence, even of your pleasures, that fight in your members?
2 Ye lust, and have not: ye envy, and desire immoderately, and cannot obtain: ye fight, and war, and get nothing, [b]because ye ask not.
3 Ye ask, and receive not, because ye ask amiss, that ye might lay the same on your pleasures.
4 [c]Ye adulterers and adulteresses, know ye not that the amity of the world is the enmity of God? Whosoever therefore will be a friend of the world, maketh himself the enemy of God.
5 [d]Do ye think that the Scripture saith in vain, The spirit that dwelleth in us, lusteth after envy?
6 But the Scripture offereth more grace, and therefore saith, (A)God resisteth the proud, and giveth grace to the humble.
7 (B)[e]Submit yourselves to God: resist the devil, and he will flee from you.
8 Draw near to God, and he will draw near to you. Cleanse your hands, ye sinners, and purge your hearts, ye double minded.
9 [f]Suffer afflictions, and sorrow ye, and weep: let your laughter be turned into mourning, and your joy into [g]heaviness.
10 (C)Cast down yourselves before the Lord, and he will lift you up.
11 [h]Speak not evil one of another, brethren. He that speaketh evil of his brother, or he that condemneth his brother, speaketh evil of the Law, and condemneth the Law: and if thou condemnest the Law, thou art not an observer of the Law, but a judge.
12 There is one Lawgiver, which is able to save, and to destroy, (D)Who art thou that judgest another man?
13 [i]Go to now, ye that say, Today or tomorrow we will go into such a city, and continue there a year, and buy and sell, and get gain,
14 (And yet ye cannot tell what shall be tomorrow. For what is your life? It is even a vapor that appeareth for a little time, and afterward vanisheth away.)
15 For that ye ought to say, (E)If the Lord will, and if we live, we will do this or that.
16 But now ye rejoice in your boastings: all such rejoicing is evil.
17 [j]Therefore to him that knoweth how to do well, and doeth it not, to him it is sin.
New International Version
Submit Yourselves to God
4 What causes fights and quarrels(A) among you? Don't they come from your desires that battle(B) within you? 2 You desire but do not have, so you kill.(C) You covet but you cannot get what you want, so you quarrel and fight. You do not have because you do not ask God. 3 When you ask, you do not receive,(D) because you ask with wrong motives,(E) that you may spend what you get on your pleasures.
4 You adulterous(F) people,[a] don't you know that friendship with the world(G) means enmity against God?(H) Therefore, anyone who chooses to be a friend of the world becomes an enemy of God.(I) 5 Or do you think Scripture says without reason that he jealously longs for the spirit he has caused to dwell in us[b]?(J) 6 But he gives us more grace. That is why Scripture says:
7 Submit yourselves, then, to God. Resist the devil,(L) and he will flee from you. 8 Come near to God and he will come near to you.(M) Wash your hands,(N) you sinners, and purify your hearts,(O) you double-minded.(P) 9 Grieve, mourn and wail. Change your laughter to mourning and your joy to gloom.(Q) 10 Humble yourselves before the Lord, and he will lift you up.(R)
11 Brothers and sisters, do not slander one another.(S) Anyone who speaks against a brother or sister[d] or judges them(T) speaks against the law(U) and judges it. When you judge the law, you are not keeping it,(V) but sitting in judgment on it. 12 There is only one Lawgiver and Judge,(W) the one who is able to save and destroy.(X) But you—who are you to judge your neighbor?(Y)
Boasting About Tomorrow
13 Now listen,(Z) you who say, "Today or tomorrow we will go to this or that city, spend a year there, carry on business and make money."(AA) 14 Why, you do not even know what will happen tomorrow. What is your life? You are a mist that appears for a little while and then vanishes.(AB) 15 Instead, you ought to say, "If it is the Lord's will,(AC) we will live and do this or that." 16 As it is, you boast in your arrogant schemes. All such boasting is evil.(AD) 17 If anyone, then, knows the good they ought to do and doesn't do it, it is sin for them.(AE)
1599 Geneva Bible (GNV)
Geneva Bible, 1599 Edition. Published by Tolle Lege Press. All rights reserved. No part of this publication may be reproduced or transmitted in any form or by any means, electronic or mechanical, without written permission from the publisher, except in the case of brief quotations in articles, reviews, and broadcasts.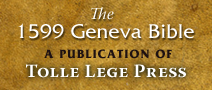 New International Version (NIV)
Holy Bible, New International Version®, NIV® Copyright ©1973, 1978, 1984, 2011 by Biblica, Inc.® Used by permission. All rights reserved worldwide.
NIV Reverse Interlinear Bible: English to Hebrew and English to Greek. Copyright © 2019 by Zondervan.