---
Amplified Bible, Classic Edition
3 You shall also be [so beautiful and prosperous as to be thought of as] a crown of glory and honor in the hand of the Lord, and a royal diadem [exceedingly beautiful] in the hand of your God.
4 You [Judah] shall no more be termed Forsaken, nor shall your land be called Desolate any more. But you shall be called Hephzibah [My delight is in her], and your land be called Beulah [married]; for the Lord delights in you, and your land shall be married [owned and protected by the Lord].
5 For as a young man marries a virgin [O Jerusalem], so shall your sons marry you; and as the bridegroom rejoices over the bride, so shall your God rejoice over you.
Read full chapter
Amplified Bible, Classic Edition (AMPC)
Copyright © 1954, 1958, 1962, 1964, 1965, 1987 by The Lockman Foundation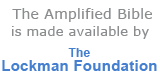 Bible Gateway Recommends
Everyday Life Bible: The Power of God's Word for Everyday Living--soft leather-look, blush
Retail: $79.99
Our Price: $54.99
Save: $25.00 (31%)
Battlefield of the Mind Bible: Renew Your Mind Through the Power of God's Word, Imitation Leather, pink
Retail: $79.99
Our Price: $53.99
Save: $26.00 (33%)
Battlefield of the Mind Bible: Renew Your Mind Through the Power of God's Word, Imitation Leather, brown
Retail: $79.99
Our Price: $53.99
Save: $26.00 (33%)
Amplified Bible, Battlefield Of The Mind Bible, Imitation Leather, Blue
Retail: $79.99
Our Price: $53.99
Save: $26.00 (33%)
KJV and Amplified Parallel Bible, Large Print, Bonded Leather, Black
Retail: $79.99
Our Price: $53.99
Save: $26.00 (33%)
Amplified Holy Bible, softcover
Retail: $19.99
Our Price: $11.99
Save: $8.00 (40%)