---
Amplified Bible, Classic Edition
6 I the Lord have called You [the Messiah] for a righteous purpose and in righteousness; I will take You by the hand and will keep You; I will give You for a covenant to the people [Israel], for a light to the nations [Gentiles],
7 To open the eyes of the blind, to bring out prisoners from the dungeon, and those who sit in darkness from the prison.(A)
8 I am the Lord; that is My name! And My glory I will not give to another, nor My praise to graven images.
Read full chapter
Amplified Bible, Classic Edition (AMPC)
Copyright © 1954, 1958, 1962, 1964, 1965, 1987 by The Lockman Foundation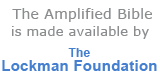 Bible Gateway Recommends
Battlefield of the Mind New Testament--soft leather-look, coral - Slightly Imperfect
Retail: $24.99
Our Price: $14.87
Save: $10.12 (40%)
KJV and Amplified Parallel Bible, Large Print, Hardcover
Retail: $49.99
Our Price: $29.49
Save: $20.50 (41%)
Amplified Thinline Holy Bible--bonded leather, black
Retail: $49.99
Our Price: $21.99
Save: $28.00 (56%)
Amplified Topical Reference Bible, Bonded Leather, Black
Retail: $69.99
Our Price: $37.99
Save: $32.00 (46%)
Classic Comparative Side-by-Side Bible (NIV, KJV, NASB, Amplified)
Retail: $54.99
Our Price: $35.99
Save: $19.00 (35%)
Amplified Holy Bible, hardcover
Retail: $29.99
Our Price: $19.99
Save: $10.00 (33%)