---
8 All of Judah's defenses crumbled.
When that happened, you brought weapons out of the arsenal. 9-10 You found the places where the walls of Jerusalem needed repair. You inspected all the houses in Jerusalem and tore some of them down to get stones to repair the city walls. In order to store water,
Read full chapter
New International Version
8 The Lord stripped away the defenses of Judah,
and you looked in that day(A)
to the weapons(B) in the Palace of the Forest.(C)
9 You saw that the walls of the City of David
were broken through(D) in many places;
you stored up water
in the Lower Pool.(E)
10 You counted the buildings in Jerusalem
and tore down houses(F) to strengthen the wall.(G)
Read full chapter
Good News Translation (GNT)
Copyright © 1992 by American Bible Society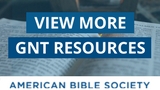 New International Version (NIV)
Copyright © 1973, 1978, 1984, 2011 by Biblica
NIV Reverse Interlinear Bible: English to Hebrew and English to Greek. Copyright © 2019 by Zondervan.