---
Amplified Bible, Classic Edition
15 For they have fled from the swords, from the drawn sword, from the bent bow, and from the grievousness of war [the press of battle].
16 For the Lord has said this to me, Within a year, according to the years of a hireling [who will work no longer than was agreed], all the glory of Kedar [an Arabian tribe] will fail.
17 And the remainder of the number of archers and their bows, the mighty men of the sons of Kedar, will be diminished and few; for the Lord, the God of Israel, has spoken it.
Read full chapter
Amplified Bible, Classic Edition (AMPC)
Copyright © 1954, 1958, 1962, 1964, 1965, 1987 by The Lockman Foundation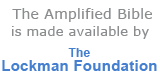 Bible Gateway Recommends
Amplified Bible, Battlefield Of The Mind Bible, Imitation Leather, Blue
Retail: $79.99
Our Price: $53.99
Save: $26.00 (33%)
KJV and Amplified Parallel Bible, Large Print, Leathersoft, Camel/rich red
Retail: $79.99
Our Price: $46.79
Save: $33.20 (42%)
Everyday Life Bible: The Power of God's Word for Everyday Living--soft leather-look, teal
Retail: $79.99
Our Price: $54.99
Save: $25.00 (31%)
Amplified Study Bible--soft leather-look, purple (indexed)
Retail: $79.99
Our Price: $42.99
Save: $37.00 (46%)
Amplified Study Bible, Hardcover
Retail: $44.99
Our Price: $26.99
Save: $18.00 (40%)
Battlefield of the Mind Bible, Amplified Version - Hardcover
Retail: $49.99
Our Price: $27.99
Save: $22.00 (44%)