---
Amplified Bible, Classic Edition
17 Ephraim is joined [fast] to idols, [so] let him alone [to take the consequences].
18 Their drinking carousal over, they go habitually to play the harlot; [Ephraim's] rulers [continue to] love shame more than her glory [which is the Lord, Israel's God].
19 The resistless wind [of God's wrath] has bound up [Israel] in its wings or skirts, and [in captivity] they and their altars shall be put to shame because of their sacrifices [to calves, to sun, moon, and stars, and to heathen gods].
Read full chapter
Amplified Bible, Classic Edition (AMPC)
Copyright © 1954, 1958, 1962, 1964, 1965, 1987 by The Lockman Foundation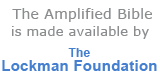 Bible Gateway Recommends
Battlefield of the Mind New Testament--soft leather-look, coral
Retail: $24.99
Our Price: $17.49
Save: $7.50 (30%)
Amplified Large-Print Bible--bonded leather, burgundy
Retail: $69.99
Our Price: $41.99
Save: $28.00 (40%)
Battlefield of the Mind Bible, Amplified Version - Hardcover
Retail: $49.99
Our Price: $27.99
Save: $22.00 (44%)
Everyday Life Bible: The Power Of God's Word For Everyday Living, Imitation Leather, pink
Retail: $79.99
Our Price: $46.49
Save: $33.50 (42%)
Amplified Study Bible, Large Print, Imitation Leather, Brown
Retail: $69.99
Our Price: $41.99
Save: $28.00 (40%)
Amplified & NKJV Parallel Bible Bonded Leather, Black, Large Print
Retail: $69.95
Our Price: $39.99
Save: $29.96 (43%)