---
4 (A)[a] For it is [b]impossible that they which were once lightened, and have [c]tasted of the heavenly gift, and were made partakers of the holy Ghost,
5 And have tasted of the good word of God, and of the powers of the world to come,
Read full chapter
Footnotes
Hebrews 6:4 He addeth a vehemency to his exhortation, and a most sharp threatening of the certain destruction that shall come to them which fall from God and his religion.
Hebrews 6:4 He speaketh of a general backsliding, and such as do altogether fall away from the faith, and not of sins which are committed through the frailty of man against the first and the second table.
Hebrews 6:4 We must mark the force of this word, for it is one thing to believe as Lydia did, whose heart God opened, Acts 16:13, and another thing to have some taste.
26 (A)For if we sin [a]willingly after that we have received and acknowledged that truth, there remaineth no more sacrifice for sins,
Read full chapter
Footnotes
Hebrews 10:26 Without any cause or occasion, or show of occasion.
New International Version
26 If we deliberately keep on sinning(A) after we have received the knowledge of the truth,(B) no sacrifice for sins is left,
Read full chapter
20 (A)[a] For if they, after they have escaped from the filthiness of the world, through the acknowledging of the Lord, and of the Savior Jesus Christ, are yet tangled again therein, and overcome, the latter end is worse with them than the beginning.
Read full chapter
Footnotes
2 Peter 2:20 It were better never to have known the way of righteousness, than to turn back from it to the old filthiness: and men that do so are compared to dogs and swine.
New International Version
20 If they have escaped the corruption of the world by knowing(A) our Lord and Savior Jesus Christ(B) and are again entangled in it and are overcome, they are worse off at the end than they were at the beginning.(C)
Read full chapter
1599 Geneva Bible (GNV)
Geneva Bible, 1599 Edition. Published by Tolle Lege Press. All rights reserved. No part of this publication may be reproduced or transmitted in any form or by any means, electronic or mechanical, without written permission from the publisher, except in the case of brief quotations in articles, reviews, and broadcasts.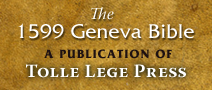 New International Version (NIV)
Holy Bible, New International Version®, NIV® Copyright ©1973, 1978, 1984, 2011 by Biblica, Inc.® Used by permission. All rights reserved worldwide.
NIV Reverse Interlinear Bible: English to Hebrew and English to Greek. Copyright © 2019 by Zondervan.