---
Amplified Bible, Classic Edition
20 As for you, you thought evil against me, but God meant it for good, to bring about that many people should be kept alive, as they are this day.
21 Now therefore, do not be afraid. I will provide for and support you and your little ones. And he comforted them [imparting cheer, hope, strength] and spoke to their hearts [kindly].
22 Joseph dwelt in Egypt, he and his father's household. And Joseph lived 110 years.
Read full chapter
Amplified Bible, Classic Edition (AMPC)
Copyright © 1954, 1958, 1962, 1964, 1965, 1987 by The Lockman Foundation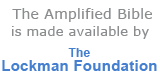 Bible Gateway Recommends
Battlefield of the Mind New Testament--soft leather-look, coral
Retail: $24.99
Our Price: $17.49
Save: $7.50 (30%)
Amplified Study Bible, Hardcover
Retail: $44.99
Our Price: $25.49
Save: $19.50 (43%)
Everyday Life Bible: The Power of God's Word for Everyday Living--soft leather-look, blush
Retail: $79.99
Our Price: $54.99
Save: $25.00 (31%)
Everyday Life Bible: The Power Of God's Word For Everyday Living, Imitation Leather, pink
Retail: $79.99
Our Price: $46.49
Save: $33.50 (42%)
KJV and Amplified Parallel Bible, Large Print, Leathersoft, Camel/rich red
Retail: $79.99
Our Price: $52.99
Save: $27.00 (34%)
Amplified Outreach Bible, Paperback, Case of 24
Retail: $167.76
Our Price: $79.49
Save: $88.27 (53%)