---
Jacob's Burial
50 When Jacob died, Joseph hugged his father and cried over him and kissed him. 2 He commanded the doctors who served him to prepare his father's body, so the doctors prepared Jacob's body to be buried. 3 It took the doctors forty days to prepare his body (the usual time it took). And the Egyptians had a time of sorrow for Jacob that lasted seventy days.
Read full chapter
New Century Version (NCV)
The Holy Bible, New Century Version®. Copyright © 2005 by Thomas Nelson, Inc.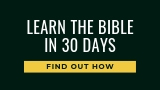 Bible Gateway Recommends
Dad's Bible: The Father's Plan - eBook
Our Price: $9.99
NCV Revolve Bible, Leathersoft, raspberry
Retail: $44.99
Our Price: $19.99
Save: $25.00 (56%)
The Contemporary Parallel New Testament with KJV, NIV, NKJV, NASB, and more!
Retail: $49.95
Our Price: $34.99
Save: $14.96 (30%)
Biblia Económica NBD, Enc. Rústica (NBD Economy Bible, Softcover)
Retail: $6.99
Our Price: $2.99
Save: $4.00 (57%)
Biblia Gracia para el Momento NBD, Enc. Rústica (NBD Grace for the Moment Bible, Softcover)
Retail: $19.99
Our Price: $13.99
Save: $6.00 (30%)