---
Amplified Bible, Classic Edition
11 Israel said to Joseph, I had not thought that I would see your face, but see, God has shown me your offspring also.
12 Then Joseph took [the boys] from [his father's embrace] and he bowed [before him] with his face to the earth.
13 Then Joseph took both [boys], Ephraim with his right hand toward Israel's left, and Manasseh with his left hand toward Israel's right, and brought them close to him.
Read full chapter
Amplified Bible, Classic Edition (AMPC)
Copyright © 1954, 1958, 1962, 1964, 1965, 1987 by The Lockman Foundation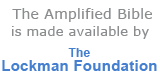 Bible Gateway Recommends
Everyday Life Bible: The Power Of God's Word For Everyday Living, Imitation Leather, pewter
Retail: $79.99
Our Price: $53.99
Save: $26.00 (33%)
The Amplified Study Bible, eBook - eBook
Our Price: $14.99
Amplified Topical Reference Bible, Bonded Leather, Black
Retail: $69.99
Our Price: $37.99
Save: $32.00 (46%)
Amplified Reading Bible, Imitation Leather, Brown
Retail: $49.99
Our Price: $29.99
Save: $20.00 (40%)
Battlefield of the Mind Bible: Renew Your Mind Through the Power of God's Word, Imitation Leather, pink
Retail: $79.99
Our Price: $53.49
Save: $26.50 (33%)
Classic Comparative Side-by-Side Bible (NIV, KJV, NASB, Amplified)
Retail: $54.99
Our Price: $32.99
Save: $22.00 (40%)