---
Contemporary English Version
3 I pray that God All-Powerful will bless you with many descendants and let you become a great nation. 4 May he bless you with the land he gave Abraham, so that you will take over this land where we now live as foreigners.
5 Isaac then sent Jacob to stay with Rebekah's brother Laban, the son of Bethuel the Aramean.
Read full chapter
New International Version
3 May God Almighty[a](A) bless(B) you and make you fruitful(C) and increase your numbers(D) until you become a community of peoples. 4 May he give you and your descendants the blessing given to Abraham,(E) so that you may take possession of the land(F) where you now reside as a foreigner,(G) the land God gave to Abraham." 5 Then Isaac sent Jacob on his way,(H) and he went to Paddan Aram,(I) to Laban son of Bethuel the Aramean,(J) the brother of Rebekah,(K) who was the mother of Jacob and Esau.
Read full chapter
Contemporary English Version (CEV)
Copyright © 1995 by American Bible Society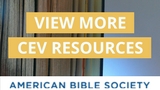 New International Version (NIV)
Holy Bible, New International Version®, NIV® Copyright ©1973, 1978, 1984, 2011 by Biblica, Inc.® Used by permission. All rights reserved worldwide.
NIV Reverse Interlinear Bible: English to Hebrew and English to Greek. Copyright © 2019 by Zondervan.