---
Contemporary English Version
12 In a dream he saw a ladder[a] that reached from earth to heaven, and God's angels were going up and down on it.
13 The Lord was standing beside the ladder[b] and said:
I am the Lord God who was worshiped by Abraham and Isaac. I will give to you and your family the land on which you are now sleeping. 14 Your descendants will spread over the earth in all directions and will become as numerous as the specks of dust. Your family will be a blessing to all people.[c]
Read full chapter
New International Version
12 He had a dream(A) in which he saw a stairway resting on the earth, with its top reaching to heaven, and the angels of God were ascending and descending on it.(B) 13 There above it[a] stood the Lord,(C) and he said: "I am the Lord, the God of your father Abraham and the God of Isaac.(D) I will give you and your descendants the land(E) on which you are lying.(F) 14 Your descendants will be like the dust of the earth, and you(G) will spread out to the west and to the east, to the north and to the south.(H) All peoples on earth will be blessed through you and your offspring.[b](I)
Read full chapter
Footnotes
Genesis 28:13 Or There beside him
Genesis 28:14 Or will use your name and the name of your offspring in blessings (see 48:20)
Contemporary English Version (CEV)
Copyright © 1995 by American Bible Society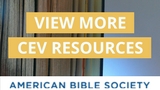 New International Version (NIV)
Holy Bible, New International Version®, NIV® Copyright ©1973, 1978, 1984, 2011 by Biblica, Inc.® Used by permission. All rights reserved worldwide.
NIV Reverse Interlinear Bible: English to Hebrew and English to Greek. Copyright © 2019 by Zondervan.