---
3 1 He rebuketh them, for suffering themselves to be drawn from the grace of free justification in Christ, most lively set out unto them. 6 He bringeth in Abraham's example, 10 declaring the effects, 21 and causes of the giving of the Law.
1 [a]O foolish Galatians, who hath bewitched you, that ye should not obey the truth, to whom Jesus Christ before was described in your [b]sight, and among you crucified?
2 This only would I learn of you, Received ye the [c]Spirit by the works of the Law, or by the hearing of [d]faith preached?
3 [e]Are ye so foolish, that after ye have begun in the Spirit, ye would now be made perfect by the [f]flesh?
4 [g]Have ye suffered so many things in vain? if so be it be even in vain.
5 [h]He therefore that ministereth to you the Spirit, and worketh miracles among you, doeth he it through the works of the Law, or by the hearing of faith preached?
6 [i]Yea rather as [j]Abraham believed God, and it was (A)imputed to him for righteousness.
7 [k]Know ye therefore, that they which are of faith, the same are the children of Abraham.
8 [l]For the Scripture foreseeing, that God would justify the Gentiles through faith, preached before the Gospel unto Abraham, saying, (B)[m]In thee shall all the Gentiles be [n]blessed.
9 [o]So then they which be of faith, are blessed with [p]faithful Abraham.
10 [q]For as many as are of the works of the Law, are under the curse: [r]For it is written, (C)Cursed is every man that continueth not in all things, which are written in the book of the Law, to do them.
11 [s]And that no man is justified by the Law in the sight of God, it is evident: (D)for the just shall live by faith.
12 [t]And the Law is not of faith: but (E)the man that shall do those things, shall live in them.
13 [u]Christ hath redeemed us from the curse of the Law, made a curse for us, ([v]for it is written, (F)[w]Cursed is everyone that hangeth on tree.)
14 [x]That the blessing of Abraham might come on the Gentiles through Christ Jesus, that we might receive the promise of the Spirit through faith.
15 [y]Brethren, I speak as [z]men do: (G)though it be but a man's covenant, when it is [aa]confirmed, yet no man doth abrogate it, or addeth anything thereto,
16 Now to Abraham and his seed were the promises made. He saith not, and to the seeds, as speaking of many: but, And to thy seed, as of one, [ab]which is [ac]Christ.
17 [ad]And this I say, that the covenant that was confirmed afore of God [ae]in respect of Christ, the [af]Law which was four hundred and thirty years after, cannot disannul, that it should make the promise of none effect.
18 [ag]For if the [ah]inheritance be of the Law, it is no more by the promise, but God gave it freely unto Abraham by promise.
19 [ai]Wherefore then serveth the Law? It was added because of the [aj]transgressions, [ak]till the seed came, unto the which the promise was made: [al]and it was [am]ordained by [an]Angels in the hand of a Mediator.
20 Now a Mediator is not a Mediator of one: [ao]but God is one.
21 [ap]Is the Law then against the promises of God? God forbid: For if there had been a Law given which could have given life, surely righteousness should have been by the Law.
22 But the [aq]Scripture hath (H)concluded [ar]all under sin, that the [as]promise by the faith of Jesus Christ should be given to them that believe.
23 [at]But before faith came, we were kept under the Law, as under a garrison, and shut up unto [au]that faith, which should afterward be revealed.
24 Wherefore the Law was our schoolmaster to bring us to Christ, that we might be made righteous by faith.
25 But after that faith is come, we are no longer under a schoolmaster.
26 [av]For ye are all the sons of God by faith, in Christ Jesus.
27 [aw]For all ye that are [ax]baptized into Christ, have [ay]put on Christ.
28 There is neither Jew nor Grecian: there is neither bond nor free: there is neither male nor female: for ye are all [az]one in Christ Jesus.
29 And if ye be Christ's, then are ye Abraham's seed, and heirs by promise.
New International Version
Faith or Works of the Law
3 You foolish(A) Galatians!(B) Who has bewitched you?(C) Before your very eyes Jesus Christ was clearly portrayed as crucified.(D) 2 I would like to learn just one thing from you: Did you receive the Spirit(E) by the works of the law,(F) or by believing what you heard?(G) 3 Are you so foolish? After beginning by means of the Spirit, are you now trying to finish by means of the flesh?[a] 4 Have you experienced[b] so much in vain—if it really was in vain? 5 So again I ask, does God give you his Spirit and work miracles(H) among you by the works of the law, or by your believing what you heard?(I) 6 So also Abraham "believed God, and it was credited to him as righteousness."[c](J)
7 Understand, then, that those who have faith(K) are children of Abraham.(L) 8 Scripture foresaw that God would justify the Gentiles by faith, and announced the gospel in advance to Abraham: "All nations will be blessed through you."[d](M) 9 So those who rely on faith(N) are blessed along with Abraham, the man of faith.(O)
10 For all who rely on the works of the law(P) are under a curse,(Q) as it is written: "Cursed is everyone who does not continue to do everything written in the Book of the Law."[e](R) 11 Clearly no one who relies on the law is justified before God,(S) because "the righteous will live by faith."[f](T) 12 The law is not based on faith; on the contrary, it says, "The person who does these things will live by them."[g](U) 13 Christ redeemed us from the curse of the law(V) by becoming a curse for us, for it is written: "Cursed is everyone who is hung on a pole."[h](W) 14 He redeemed us in order that the blessing given to Abraham might come to the Gentiles through Christ Jesus,(X) so that by faith we might receive the promise of the Spirit.(Y)
The Law and the Promise
15 Brothers and sisters,(Z) let me take an example from everyday life. Just as no one can set aside or add to a human covenant that has been duly established, so it is in this case. 16 The promises were spoken to Abraham and to his seed.(AA) Scripture does not say "and to seeds," meaning many people, but "and to your seed,"[i](AB) meaning one person, who is Christ. 17 What I mean is this: The law, introduced 430 years(AC) later, does not set aside the covenant previously established by God and thus do away with the promise. 18 For if the inheritance depends on the law, then it no longer depends on the promise;(AD) but God in his grace gave it to Abraham through a promise.
19 Why, then, was the law given at all? It was added because of transgressions(AE) until the Seed(AF) to whom the promise referred had come. The law was given through angels(AG) and entrusted to a mediator.(AH) 20 A mediator,(AI) however, implies more than one party; but God is one.
21 Is the law, therefore, opposed to the promises of God? Absolutely not!(AJ) For if a law had been given that could impart life, then righteousness would certainly have come by the law.(AK) 22 But Scripture has locked up everything under the control of sin,(AL) so that what was promised, being given through faith in Jesus Christ, might be given to those who believe.
Children of God
23 Before the coming of this faith,[j] we were held in custody(AM) under the law, locked up until the faith that was to come would be revealed.(AN) 24 So the law was our guardian until Christ came(AO) that we might be justified by faith.(AP) 25 Now that this faith has come, we are no longer under a guardian.(AQ)
26 So in Christ Jesus you are all children of God(AR) through faith, 27 for all of you who were baptized into Christ(AS) have clothed yourselves with Christ.(AT) 28 There is neither Jew nor Gentile, neither slave nor free,(AU) nor is there male and female,(AV) for you are all one in Christ Jesus.(AW) 29 If you belong to Christ,(AX) then you are Abraham's seed,(AY) and heirs(AZ) according to the promise.(BA)
1599 Geneva Bible (GNV)
Geneva Bible, 1599 Edition. Published by Tolle Lege Press. All rights reserved. No part of this publication may be reproduced or transmitted in any form or by any means, electronic or mechanical, without written permission from the publisher, except in the case of brief quotations in articles, reviews, and broadcasts.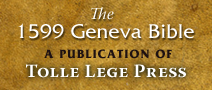 New International Version (NIV)
Holy Bible, New International Version®, NIV® Copyright ©1973, 1978, 1984, 2011 by Biblica, Inc.® Used by permission. All rights reserved worldwide.
NIV Reverse Interlinear Bible: English to Hebrew and English to Greek. Copyright © 2019 by Zondervan.