---
18 So I poured out my anger against them, because they murdered in the land and because they made the land unclean with their idols. 19 I scattered them among the nations, and they were spread through the countries. I punished them for how they lived and what they did. 20 They dishonored my holy name in the nations where they went. The nations said about them, 'These are the people of the Lord, but they had to leave the land which he gave them.'
Read full chapter
New Century Version (NCV)
The Holy Bible, New Century Version®. Copyright © 2005 by Thomas Nelson, Inc.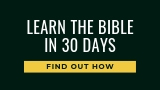 Bible Gateway Recommends
NCV Grace for the Moment Daily Bible - Slightly Imperfect
Retail: $19.99
Our Price: $11.89
Save: $8.10 (41%)
Biblia Económica NBD, Enc. Rústica (NBD Economy Bible, Softcover)
Retail: $6.99
Our Price: $2.99
Save: $4.00 (57%)
The Contemporary Parallel New Testament with KJV, NIV, NKJV, NASB, and more!
Retail: $49.95
Our Price: $33.99
Save: $15.96 (32%)
NCV New Testament MP3 Audio
Retail: $14.95
Our Price: $12.99
Save: $1.96 (13%)
Biblia Gracia para el Momento NBD, Enc. Rústica (NBD Grace for the Moment Bible, Softcover)
Retail: $19.99
Our Price: $13.99
Save: $6.00 (30%)
NCV Revolve Bible, Leathersoft, chocolate/raspberry/biscuit
Retail: $44.99
Our Price: $17.99
Save: $27.00 (60%)