---
Amplified Bible, Classic Edition
15 Then the Hebrew foremen came to Pharaoh and cried, Why do you deal like this with your servants?
16 No straw is given to your servants, yet they say to us, Make bricks! And behold, your servants are beaten, but the fault is in your own people.
17 But [Pharaoh] said, You are idle, lazy and idle! That is why you say, Let us go and sacrifice to the Lord.
Read full chapter
Amplified Bible, Classic Edition (AMPC)
Copyright © 1954, 1958, 1962, 1964, 1965, 1987 by The Lockman Foundation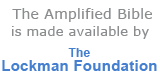 Bible Gateway Recommends
La Biblia de la Vida Diaria, Piel Fabricada (Everyday Life Bible, Bonded Leather)
Retail: $59.99
Our Price: $41.99
Save: $18.00 (30%)
Battlefield of the Mind Bible: Renew Your Mind Through the Power of God's Word - Slightly Imperfect
Retail: $29.99
Our Price: $16.99
Save: $13.00 (43%)
Battlefield of the Mind Bible: Renew Your Mind Through the Power of God's Word - Imperfectly Imprinted Bibles
Retail: $29.99
Our Price: $15.99
Save: $14.00 (47%)
Everyday Life Bible: The Power Of God's Word For Everyday Living, Imitation Leather, pink
Retail: $79.99
Our Price: $53.99
Save: $26.00 (33%)
Everyday Life Bible: The Power Of God's Word For Everyday Living, Imitation Leather, pewter
Retail: $79.99
Our Price: $53.99
Save: $26.00 (33%)
Classic Comparative Side-by-Side Bible (NIV, KJV, NASB, Amplified) , Bonded Leather
Retail: $89.99
Our Price: $52.99
Save: $37.00 (41%)