---
Amplified Bible, Classic Edition
7 Keep far from a false matter and [be very careful] not to condemn to death the innocent and the righteous, for I will not justify and acquit the wicked.
8 You shall take no bribe, for the bribe blinds those who have sight and perverts the testimony and the cause of the righteous.
9 Also you shall not oppress a temporary resident, for you know the heart of a stranger and sojourner, seeing you were strangers and sojourners in Egypt.
Read full chapter
Amplified Bible, Classic Edition (AMPC)
Copyright © 1954, 1958, 1962, 1964, 1965, 1987 by The Lockman Foundation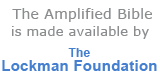 Bible Gateway Recommends
The Amplified Topical Reference Bible, Hardcover
Retail: $39.99
Our Price: $17.99
Save: $22.00 (55%)
Amplified Outreach Bible, Paperback - Slightly Imperfect
Retail: $6.99
Our Price: $4.24
Save: $2.75 (39%)
Amplified Large-Print Bible--bonded leather, burgundy
Retail: $69.99
Our Price: $41.49
Save: $28.50 (41%)
Amplified Study Bible, Large Print, Imitation Leather, Brown
Retail: $69.99
Our Price: $44.49
Save: $25.50 (36%)
Amplified Reading Bible, Imitation Leather, Brown, Indexed
Retail: $59.99
Our Price: $38.99
Save: $21.00 (35%)
KJV and Amplified Parallel Bible, Large Print, Hardcover
Retail: $49.99
Our Price: $29.49
Save: $20.50 (41%)