---
7 Thou shalt keep thee far from a false matter, thou shalt not slay the [a]innocent and the righteous: for I will not justify a wicked man.
8 ¶ (A)Thou shalt take no gift: for the gift blindeth the [b]wise, and perverteth the words of the righteous.
9 ¶ Thou shalt not oppress a stranger: for ye know the [c]heart of a stranger, seeing ye were strangers in the land of Egypt.
Read full chapter
Footnotes
Exodus 23:7 Whether thou be magistrate or art commanded by the magistrate.
Exodus 23:8 Hebrew, seeing.
Exodus 23:9 For in that that he is a stranger, his heart is sorrowful enough.
New International Version
7 Have nothing to do with a false charge(A) and do not put an innocent(B) or honest person to death,(C) for I will not acquit the guilty.(D)
8 "Do not accept a bribe,(E) for a bribe blinds those who see and twists the words of the innocent.
9 "Do not oppress a foreigner;(F) you yourselves know how it feels to be foreigners, because you were foreigners in Egypt.
Read full chapter
1599 Geneva Bible (GNV)
Geneva Bible, 1599 Edition. Published by Tolle Lege Press. All rights reserved. No part of this publication may be reproduced or transmitted in any form or by any means, electronic or mechanical, without written permission from the publisher, except in the case of brief quotations in articles, reviews, and broadcasts.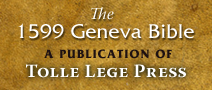 New International Version (NIV)
Holy Bible, New International Version®, NIV® Copyright ©1973, 1978, 1984, 2011 by Biblica, Inc.® Used by permission. All rights reserved worldwide.
NIV Reverse Interlinear Bible: English to Hebrew and English to Greek. Copyright © 2019 by Zondervan.