---
6 And they shall fill thine houses, and all thy servants' houses, and the houses of all the Egyptians, as neither thy fathers, nor thy fathers' fathers have seen, since the time they were upon the earth unto this day. So he returned, and went out from Pharaoh.
7 Then Pharaoh's servants said unto him, How long shall he be [a]an [b]offence unto us? let the men go, that they may serve the Lord their God: wilt thou first know that Egypt is destroyed?
8 So Moses and Aaron were brought again unto Pharaoh, and he said unto them, Go, serve the Lord your God, but who are they that shall go?
Read full chapter
Footnotes
Exodus 10:7 Or, snare.
Exodus 10:7 Meaning, the occasion of all these evils: so are the godly ever charged as Elijah was by Ahab.
New International Version
6 They will fill your houses(A) and those of all your officials and all the Egyptians—something neither your parents nor your ancestors have ever seen from the day they settled in this land till now.'"(B) Then Moses turned and left Pharaoh.
7 Pharaoh's officials said to him, "How long will this man be a snare(C) to us? Let the people go, so that they may worship the Lord their God. Do you not yet realize that Egypt is ruined?"(D)
8 Then Moses and Aaron were brought back to Pharaoh. "Go, worship(E) the Lord your God," he said. "But tell me who will be going."
Read full chapter
1599 Geneva Bible (GNV)
Geneva Bible, 1599 Edition. Published by Tolle Lege Press. All rights reserved. No part of this publication may be reproduced or transmitted in any form or by any means, electronic or mechanical, without written permission from the publisher, except in the case of brief quotations in articles, reviews, and broadcasts.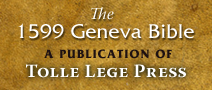 New International Version (NIV)
Holy Bible, New International Version®, NIV® Copyright ©1973, 1978, 1984, 2011 by Biblica, Inc.® Used by permission. All rights reserved worldwide.
NIV Reverse Interlinear Bible: English to Hebrew and English to Greek. Copyright © 2019 by Zondervan.