---
Amplified Bible, Classic Edition
30 And do not grieve the Holy Spirit of God [do not offend or vex or sadden Him], by Whom you were sealed (marked, branded as God's own, secured) for the day of redemption (of final deliverance through Christ from evil and the consequences of sin).
31 Let all bitterness and indignation and wrath (passion, rage, bad temper) and resentment (anger, animosity) and quarreling (brawling, clamor, contention) and slander (evil-speaking, abusive or blasphemous language) be banished from you, with all malice (spite, ill will, or baseness of any kind).
32 And become useful and helpful and kind to one another, tenderhearted (compassionate, understanding, loving-hearted), forgiving one another [readily and freely], as God in Christ forgave you.
Read full chapter
Amplified Bible, Classic Edition (AMPC)
Copyright © 1954, 1958, 1962, 1964, 1965, 1987 by The Lockman Foundation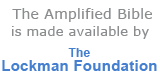 Bible Gateway Recommends
Amplified Outreach Bible, Paperback
Retail: $6.99
Our Price: $4.99
Save: $2.00 (29%)
Battlefield of the Mind Bible, Amplified Version - Hardcover
Retail: $49.99
Our Price: $27.99
Save: $22.00 (44%)
Battlefield of the Mind Bible: Renew Your Mind Through the Power of God's Word, Imitation Leather, pink
Retail: $79.99
Our Price: $53.99
Save: $26.00 (33%)
Classic Comparative Side-by-Side Bible (NIV, KJV, NASB, Amplified) , Bonded Leather
Retail: $89.99
Our Price: $57.99
Save: $32.00 (36%)
Amplified Thinline Holy Bible--bonded leather, burgundy
Retail: $49.99
Our Price: $31.99
Save: $18.00 (36%)
Amplified Bible, Battlefield Of The Mind Bible, Imitation Leather, Blue
Retail: $79.99
Our Price: $53.99
Save: $26.00 (33%)