---
Amplified Bible, Classic Edition
6 Then the color and the [drunken] hilarious brightness of the king's face was changed, and his [terrifying] thoughts troubled and alarmed him; the joints and muscles of his hips and back gave way and his knees smote together.
7 The king cried aloud [mightily] to bring in the enchanters or soothsayers, the Chaldeans [diviners], and the astrologers. The king said to the wise men of Babylon, Whoever will read this writing and show me the interpretation of it will be clothed with purple and have a chain of gold put about his neck and will be the third ruler in the kingdom.
8 And all the king's wise men came in, but they could not read the writing or make known to the king the interpretation of it.
Read full chapter
Amplified Bible, Classic Edition (AMPC)
Copyright © 1954, 1958, 1962, 1964, 1965, 1987 by The Lockman Foundation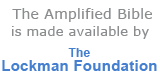 Bible Gateway Recommends
Battlefield of the Mind Bible: Renew Your Mind Through the Power of God's Word, Imitation Leather, brown - Slightly Imperfect
Retail: $79.99
Our Price: $45.89
Save: $34.10 (43%)
Amplified Study Bible, Large Print, Imitation Leather, Brown
Retail: $69.99
Our Price: $43.99
Save: $26.00 (37%)
Battlefield of the Mind Bible: Renew Your Mind Through the Power of God's Word
Retail: $29.99
Our Price: $19.99
Save: $10.00 (33%)
KJV and Amplified Parallel Bible, Large Print, Leathersoft, Camel/rich red
Retail: $79.99
Our Price: $46.49
Save: $33.50 (42%)
Battlefield of the Mind Bible: Renew Your Mind Through the Power of God's Word - Slightly Imperfect
Retail: $29.99
Our Price: $16.99
Save: $13.00 (43%)
Amplified Topical Reference Bible, Bonded Leather, Black
Retail: $69.99
Our Price: $37.99
Save: $32.00 (46%)