---
24 Seventy [a]weeks are determined upon [b]thy people and upon thine holy city, to finish the wickedness, and to seal up [c]the sins, and to reconcile the iniquity, and to bring in everlasting righteousness, and to seal up the vision and prophecy, and to anoint the most Holy.
Read full chapter
Footnotes
Daniel 9:24 He alludeth to Jeremiah's prophecy: who prophesied that their captivity should be seventy years: but now God's mercy should sevenfold exceed his judgment, which should be four hundred and ninety years, even to the coming of Christ, and so then it should continue forever.
Daniel 9:24 Meaning, Daniel's nation, over whom he was careful.
Daniel 9:24 To show mercy and to put sin out of remembrance.
New International Version
24 "Seventy 'sevens'[a] are decreed for your people and your holy city(A) to finish[b] transgression, to put an end to sin, to atone(B) for wickedness, to bring in everlasting righteousness,(C) to seal up vision and prophecy and to anoint the Most Holy Place.[c]
Read full chapter
1599 Geneva Bible (GNV)
Geneva Bible, 1599 Edition. Published by Tolle Lege Press. All rights reserved. No part of this publication may be reproduced or transmitted in any form or by any means, electronic or mechanical, without written permission from the publisher, except in the case of brief quotations in articles, reviews, and broadcasts.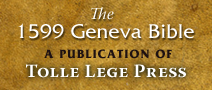 New International Version (NIV)
Holy Bible, New International Version®, NIV® Copyright ©1973, 1978, 1984, 2011 by Biblica, Inc.® Used by permission. All rights reserved worldwide.
NIV Reverse Interlinear Bible: English to Hebrew and English to Greek. Copyright © 2019 by Zondervan.