---
4 2 He returneth to general exhortations, 3 touching prayer and gracious speech, 7and so endeth with greetings and commendations.
1 Ye masters, do unto your servants, that which is just and equal, knowing that ye also have a master in heaven.
2 (A)[a][b]Continue in prayer, and watch in the same with thanksgiving,
3 (B)[c]Praying also for us, that God may open unto us the [d]door of utterance, to speak the mystery of Christ: wherefore I am also in bonds,
4 That I may utter it, as it becometh me to speak.
5 ¶ (C)[e]Walk [f]wisely toward them that are without, and redeem the [g]season.
6 [h]Let your speech be [i]gracious always, and powdered with [j]salt, that ye may know how to answer every man.
7 ¶ Tychicus our beloved brother and faithful minister, and fellow servant in the Lord, shall declare unto you my whole state:
8 Whom I have sent unto you for the same purpose that he might know your state, and might comfort your hearts,
9 With Onesimus a faithful and a beloved brother, who is one of you. They shall show you of all things here.
10 Aristarchus my prison fellow saluteth you, and Marcus, Barnabas's cousin (touching whom ye received commandments: If he come unto you, receive him.)
11 And Jesus which is called Justus, which are of the circumcision. These [k]only are my work-fellows unto the [l]kingdom of God, which have been unto my consolation.
12 Epaphras the servant of Christ, which is one of you, saluteth you, and always striveth for you in prayers, that ye may stand perfect, and full in all the will of God.
13 For I bear him record, that he hath a great zeal for you, and for them of Laodicea, and them of Hierapolis,
14 (D)Luke the beloved physician greeteth you, and Demas.
15 Salute the brethren which are of Laodicea, and Nymphas, and the Church which is in his house.
16 And when this Epistle is read of you, cause that it be read in the Church of the Laodiceans also, and that ye likewise read the Epistle written from Laodicea,
17 And say to Archippus, Take heed to the ministry, that thou hast received in the Lord, that thou fulfill it.
18 The salutation by the hand of me Paul. Remember my bands. Grace be with you, Amen.
¶ Written from Rome to the Colossians, and sent by Tychicus, and Onesimus.
New International Version
4 Masters, provide your slaves with what is right and fair,(A) because you know that you also have a Master in heaven.
Further Instructions
2 Devote yourselves to prayer,(B) being watchful and thankful. 3 And pray for us, too, that God may open a door(C) for our message, so that we may proclaim the mystery(D) of Christ, for which I am in chains.(E) 4 Pray that I may proclaim it clearly, as I should. 5 Be wise(F) in the way you act toward outsiders;(G) make the most of every opportunity.(H) 6 Let your conversation be always full of grace,(I) seasoned with salt,(J) so that you may know how to answer everyone.(K)
Final Greetings
7 Tychicus(L) will tell you all the news about me. He is a dear brother, a faithful minister and fellow servant[a](M) in the Lord. 8 I am sending him to you for the express purpose that you may know about our[b] circumstances and that he may encourage your hearts.(N) 9 He is coming with Onesimus,(O) our faithful and dear brother, who is one of you.(P) They will tell you everything that is happening here.
10 My fellow prisoner Aristarchus(Q) sends you his greetings, as does Mark,(R) the cousin of Barnabas.(S) (You have received instructions about him; if he comes to you, welcome him.) 11 Jesus, who is called Justus, also sends greetings. These are the only Jews[c] among my co-workers(T) for the kingdom of God, and they have proved a comfort to me. 12 Epaphras,(U) who is one of you(V) and a servant of Christ Jesus, sends greetings. He is always wrestling in prayer for you,(W) that you may stand firm in all the will of God, mature(X) and fully assured. 13 I vouch for him that he is working hard for you and for those at Laodicea(Y) and Hierapolis. 14 Our dear friend Luke,(Z) the doctor, and Demas(AA) send greetings. 15 Give my greetings to the brothers and sisters at Laodicea,(AB) and to Nympha and the church in her house.(AC)
16 After this letter has been read to you, see that it is also read(AD) in the church of the Laodiceans and that you in turn read the letter from Laodicea.
17 Tell Archippus:(AE) "See to it that you complete the ministry you have received in the Lord."(AF)
18 I, Paul, write this greeting in my own hand.(AG) Remember(AH) my chains.(AI) Grace be with you.(AJ)
1599 Geneva Bible (GNV)
Geneva Bible, 1599 Edition. Published by Tolle Lege Press. All rights reserved. No part of this publication may be reproduced or transmitted in any form or by any means, electronic or mechanical, without written permission from the publisher, except in the case of brief quotations in articles, reviews, and broadcasts.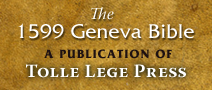 New International Version (NIV)
Holy Bible, New International Version®, NIV® Copyright ©1973, 1978, 1984, 2011 by Biblica, Inc.® Used by permission. All rights reserved worldwide.
NIV Reverse Interlinear Bible: English to Hebrew and English to Greek. Copyright © 2019 by Zondervan.