---
Amplified Bible, Classic Edition
22 So Moses was educated in all the wisdom and culture of the Egyptians, and he was mighty (powerful) in his speech and deeds.
23 And when he was in his fortieth year, it came into his heart to visit his kinsmen the children of Israel [[a]to help them and to care for them].
24 And on seeing one of them being unjustly treated, he defended the oppressed man and avenged him by striking down the Egyptian and slaying [him].
Read full chapter
Footnotes
Acts 7:23 G. Abbott-Smith, Manual Greek Lexicon.
Amplified Bible, Classic Edition (AMPC)
Copyright © 1954, 1958, 1962, 1964, 1965, 1987 by The Lockman Foundation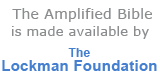 Bible Gateway Recommends
Everyday Life Bible: The Power of God's Word for Everyday Living--soft leather-look, teal
Retail: $79.99
Our Price: $54.99
Save: $25.00 (31%)
KJV and Amplified Parallel Bible, Large Print, Hardcover
Retail: $49.99
Our Price: $28.99
Save: $21.00 (42%)
Classic Comparative Side-by-Side Bible (NIV, KJV, NASB, Amplified) , Bonded Leather
Retail: $89.99
Our Price: $52.99
Save: $37.00 (41%)
Amplified Thinline Holy Bible--bonded leather, black (indexed)
Retail: $59.99
Our Price: $35.99
Save: $24.00 (40%)
Amplified Bible, Battlefield of the Mind: Psalms and Proverbs Imitation Leather
Retail: $19.00
Our Price: $11.49
Save: $7.51 (40%)
Amplified Holy Bible, hardcover
Retail: $29.99
Our Price: $17.99
Save: $12.00 (40%)