---
Amplified Bible, Classic Edition
11 And [that same] following night the Lord stood beside Paul and said, Take courage, Paul, for as you have borne faithful witness concerning Me at Jerusalem, so you must also bear witness at Rome.
12 Now when daylight came, the Jews formed a plot and bound themselves by an oath and under a curse neither to eat nor drink till they had done away with Paul.
13 There were more than forty [men of them], who formed this conspiracy [swearing together this oath and curse].
Read full chapter
Amplified Bible, Classic Edition (AMPC)
Copyright © 1954, 1958, 1962, 1964, 1965, 1987 by The Lockman Foundation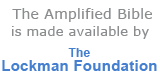 Bible Gateway Recommends
Battlefield of the Mind New Testament--soft leather-look, coral
Retail: $24.99
Our Price: $17.49
Save: $7.50 (30%)
Amplified Study Bible, Large Print, Imitation Leather, Brown
Retail: $69.99
Our Price: $43.99
Save: $26.00 (37%)
Classic Comparative Side-by-Side Bible (NIV, KJV, NASB, Amplified) , Bonded Leather
Retail: $89.99
Our Price: $57.99
Save: $32.00 (36%)
Amplified Outreach Bible, Paperback
Retail: $6.99
Our Price: $4.99
Save: $2.00 (29%)
Everyday Life Bible: The Power Of God's Word For Everyday Living, Imitation Leather, pink
Retail: $79.99
Our Price: $46.49
Save: $33.50 (42%)
New Everyday Life Bible: The Power Of God's Word For Everyday Living
Retail: $29.99
Our Price: $19.99
Save: $10.00 (33%)