---
11 Now the night following, the Lord stood by him, and said, Be of good courage, Paul, for as thou hast testified of me in Jerusalem, so must thou bear witness also at Rome.
12 [a]And when the day was come, certain of the Jews made an assembly, and bound themselves [b]with a curse, saying, that they would neither eat nor drink till they had killed Paul.
13 And they were more than forty, which had made this conspiracy.
Read full chapter
Footnotes
Acts 23:12 Such as are carried away with a foolish zeal, think that they may lie and murder, and do whatsoever mischief they list.
Acts 23:12 They cursing and banning themselves, promised.
New International Version
11 The following night the Lord stood near Paul and said, "Take courage!(A) As you have testified about me in Jerusalem, so you must also testify in Rome."(B)
The Plot to Kill Paul
12 The next morning some Jews formed a conspiracy(C) and bound themselves with an oath not to eat or drink until they had killed Paul.(D) 13 More than forty men were involved in this plot.
Read full chapter
1599 Geneva Bible (GNV)
Geneva Bible, 1599 Edition. Published by Tolle Lege Press. All rights reserved. No part of this publication may be reproduced or transmitted in any form or by any means, electronic or mechanical, without written permission from the publisher, except in the case of brief quotations in articles, reviews, and broadcasts.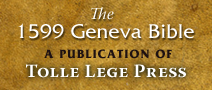 New International Version (NIV)
Holy Bible, New International Version®, NIV® Copyright ©1973, 1978, 1984, 2011 by Biblica, Inc.® Used by permission. All rights reserved worldwide.
NIV Reverse Interlinear Bible: English to Hebrew and English to Greek. Copyright © 2019 by Zondervan.