---
Amplified Bible, Classic Edition
7 [These weak women will listen to anybody who will teach them]; they are forever inquiring and getting information, but are never able to arrive at a recognition and knowledge of the Truth.
8 Now just as [a]Jannes and Jambres were hostile to and resisted Moses, so these men also are hostile to and oppose the Truth. They have depraved and distorted minds, and are reprobate and counterfeit and to be rejected as far as the faith is concerned.(A)
9 But they will not get very far, for their rash folly will become obvious to everybody, as was that of those [magicians mentioned].
Read full chapter
Footnotes
2 Timothy 3:8 Neither of these men is mentioned in the Old Testament, but according to Jewish tradition they were the Egyptian court magicians who opposed Moses.
Amplified Bible, Classic Edition (AMPC)
Copyright © 1954, 1958, 1962, 1964, 1965, 1987 by The Lockman Foundation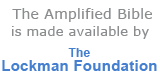 Bible Gateway Recommends
KJV and Amplified Parallel Bible, Large Print, Leathersoft, Camel/rich red
Retail: $79.99
Our Price: $47.99
Save: $32.00 (40%)
Everyday Life Bible: The Power Of God's Word For Everyday Living, Imitation Leather, pewter
Retail: $79.99
Our Price: $53.99
Save: $26.00 (33%)
Amplified Large-Print Bible--bonded leather, burgundy
Retail: $69.99
Our Price: $45.99
Save: $24.00 (34%)
Amplified Thinline Holy Bible--bonded leather, burgundy
Retail: $49.99
Our Price: $31.99
Save: $18.00 (36%)
Everyday Life Bible: The Power Of God's Word For Everyday Living, Imitation Leather, pink
Retail: $79.99
Our Price: $54.99
Save: $25.00 (31%)
Amplified Study Bible--soft leather-look, purple (indexed)
Retail: $79.99
Our Price: $52.99
Save: $27.00 (34%)