---
16 Having a good conscience, that when they speak evil of you as of evil doers, they may be ashamed which slander your good conversation in Christ.
17 [a]For it is better (if the will of God be so) that ye suffer for well doing, than for evil doing.
18 (A)[b]For Christ also hath once suffered for sins, [c]the just for the unjust, [d]that he might bring us to God, [e]and was put to death concerning the [f]flesh, but was quickened by the spirit.
Read full chapter
New International Version
16 keeping a clear conscience,(A) so that those who speak maliciously against your good behavior in Christ may be ashamed of their slander.(B) 17 For it is better, if it is God's will,(C) to suffer for doing good(D) than for doing evil. 18 For Christ also suffered once(E) for sins,(F) the righteous for the unrighteous, to bring you to God.(G) He was put to death in the body(H) but made alive in the Spirit.(I)
Read full chapter
1599 Geneva Bible (GNV)
Geneva Bible, 1599 Edition. Published by Tolle Lege Press. All rights reserved. No part of this publication may be reproduced or transmitted in any form or by any means, electronic or mechanical, without written permission from the publisher, except in the case of brief quotations in articles, reviews, and broadcasts.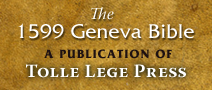 New International Version (NIV)
Holy Bible, New International Version®, NIV® Copyright ©1973, 1978, 1984, 2011 by Biblica, Inc.® Used by permission. All rights reserved worldwide.
NIV Reverse Interlinear Bible: English to Hebrew and English to Greek. Copyright © 2019 by Zondervan.