---
Amplified Bible, Classic Edition
15 And Solomon had 70,000 burden bearers and 80,000 hewers [of stone] in the hill country of Judah,
16 Besides Solomon's 3,300 overseers in charge of the people doing the work.
17 The king commanded, and they hewed and brought out [a]great, costly stones in order to lay the foundation of the house with dressed stone.
Read full chapter
Footnotes
1 Kings 5:17 These great foundation stones remain to this day. One of them is almost thirty-nine feet long, one of the most interesting stones of the world. It is the chief cornerstone of the Mosque of Omar's massive wall, placed in its present position 3,000 years ago. Markings on the stones represent the culture of Phoenicia, the region around Tyre from which Solomon received building materials for the temple.
Amplified Bible, Classic Edition (AMPC)
Copyright © 1954, 1958, 1962, 1964, 1965, 1987 by The Lockman Foundation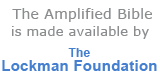 Bible Gateway Recommends
NKJV Amplified Parallel Large-Print Bible Flexisoft, Blue/Brown
Retail: $79.95
Our Price: $45.99
Save: $33.96 (42%)
KJV and Amplified Parallel Bible, Large Print, Leathersoft, Camel/rich red
Retail: $79.99
Our Price: $43.49
Save: $36.50 (46%)
Classic Comparative Side-by-Side Bible (NIV, KJV, NASB, Amplified)
Retail: $54.99
Our Price: $32.99
Save: $22.00 (40%)
Amplified Bible, Battlefield Of The Mind Bible, Hardcover - Slightly Imperfect
Retail: $49.99
Our Price: $22.39
Save: $27.60 (55%)
Amplified Thinline Holy Bible--bonded leather, black (indexed)
Retail: $59.99
Our Price: $35.99
Save: $24.00 (40%)
Amplified Compact Holy Bible, hardcover
Retail: $14.99
Our Price: $8.99
Save: $6.00 (40%)