---
Amplified Bible, Classic Edition
12 The sons of Kohath: Amram, Izhar, Hebron, and Uzziel—four in all.
13 The sons of Amram: Aaron and Moses. Aaron was set apart to sanctify him as most holy and to consecrate the most holy things, that he and his sons forever might burn incense before the Lord, minister to Him, and bless in His name [and the character which that name denotes] forever.
14 But the sons of Moses the man of God were named among the tribe of Levi.
Read full chapter
Amplified Bible, Classic Edition (AMPC)
Copyright © 1954, 1958, 1962, 1964, 1965, 1987 by The Lockman Foundation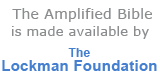 Bible Gateway Recommends
Classic Comparative Side-by-Side Bible (NIV, KJV, NASB, Amplified) - Slightly Imperfect
Retail: $54.99
Our Price: $30.59
Save: $24.40 (44%)
Amplified Bible, Battlefield Of The Mind Bible, Imitation Leather, Blue
Retail: $79.99
Our Price: $53.99
Save: $26.00 (33%)
Amplified & NKJV Parallel Bible Bonded Leather, Black, Large Print - Imperfectly Imprinted Bibles
Retail: $69.95
Our Price: $31.99
Save: $37.96 (54%)
Battlefield of the Mind Bible: Renew Your Mind Through the Power of God's Word, Imitation Leather, brown
Retail: $79.99
Our Price: $53.99
Save: $26.00 (33%)
NKJV Amplified Parallel Large-Print Bible Flexisoft, Blue/Brown
Retail: $79.95
Our Price: $46.99
Save: $32.96 (41%)
Battlefield of the Mind New Testament--soft leather-look, arcadia blue
Retail: $24.99
Our Price: $17.49
Save: $7.50 (30%)